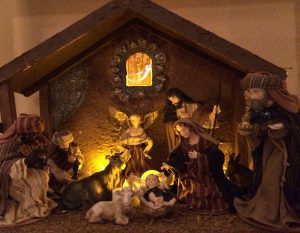 It wasn't loud; a tiny cry,
But angels heard the sound.
They all began to sing for joy
And spread the news around.
Shepherds heard and left their flocks
To find the "Lamb of God."
They hastened 'cross the very ground,
One day, His feet would trod.
Wise men watching for His star
Were filled with glad delight.
At last, their "dream" was coming true
On this Holy Night.
Christ still comes to anyone
Who opens up his heart
And asks Him to come in and stay
And be a vital part
Of everything they say and do,
Today and evermore.
Each heart can be His manger bed.
Come, let us adore.