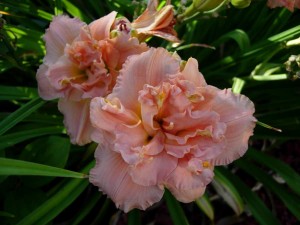 Double Classic Day Lily – The Tyler Garden
My father loved his garden well,
My mother loved it, too.
All the colors of loveliness
Were in the flowers he grew.
Mother would take my hand and we
Would view the flowery site.
Gladiolas, a stately flower,
Was father's deepest delight.
As years went by he added others,
Roses, cosmos, too,
Morning Glories, hollyhocks,
Forget-Me-Nots of blue.
He graced the earth with untold beauty
It lingers in my mind;
In growing flowers of my own
It's shades of him, I find.
Tags: Day Lily